Company Profile






Hangzhou Darlly Filtration Equipment Co.,ltd

is a high-tech company located in Fuyang, Hangzhou,Zhejiang Province, China. Darlly specialiazes in designing and manufacturing various filter cartridges used for diiferent applications.




Our filter cartridges are widely used in Bio-pharmaceuticals, Microelectronics,Food and beverage, Power generation,Petrochemical, Metal processing,Drinking water treatment,Swimming pools and spa water treatment, Mechanical manufacturing,Mining,etc markets.We have the market share all over the world, most of the products sell to North America, Europe,Southeast Asia,Middle east,Taiwan and all the area in China.With 14,727 square meters of factory area and 32,000 square meters of building area, state-of-art facility, manufaturing and testing equipment, professional R&D team. Darlly is well accepted in the global market.We have hundreds of "off-the-shelf" products for you to choose. Whatever you cannot find in our catalog,we can make it for you. Define your needs and let us put your vast resources to work for you, give us the opportunity to go beyond the expected, and you will see what a difference Darlly can make.




When our customers succeed, Darlly succeeds. To make our customers stronger and to grow with customers is our mission."Endevored to produce the best cartridges" is our continously pursued goal. Our commitment is to continously enhance our ability to innovate, and supply quality products, resonable price and excellent service to meet the diverse and demanding requirements from our customers.





Product Details


20 inch pleated filter cartridge 0.2 micron
Polypropylene pleated filter cartridge is constructed of fine polypropylene media and nonwoven support materials. Adaptors are thermally welded with media without using any glue, so there will be no any possibilities to cause pollution.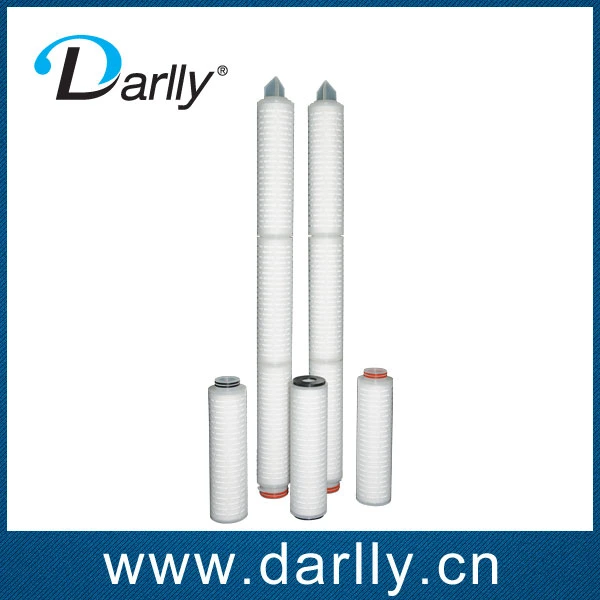 Features
Excellent chemical compatibility. Suitable for filtering organic solvents, acid bases.
Pleated design increased the filtration area.
low pressure drop, long service life
Full range of removal ratings

Specifications
Removal ratings: 0.1um, 0.2um, 0.45um, 1um, 3um, 5um, 10um, 20um, 30um, 50um
Length: 5'', 10'', 20'', 30'', 40''
Outside diameter: 69mm, 83mm, 131mm
Maximum operating temperature: 80°C, @1 bar
Maximum operating differential pressure: 4.0bar
Maximum operating differential pressure (reverse direction): 2.0bar normal temperature
Sterilization temperature time: 5times, 20 Minute cycles at 120°C

Applications
Pharmaceutics
Food and beverage
Oil industry
Semiconductor
Chemical industry

Order Information:
For example:
DLMPP-0100-10-III-S
PP, Rating: 1um, Length: 10",-222/Flat End, seal material: Viton

Certificate