2000LPH salt removal drinking water purification plant reverse osmosis water purification system
The reverse osmosis(RO) water treatment plant is an equipment to purify water with the action of pressure difference of semi permeable membrane. RO membranes can effectively remove majority of organics, harmful substances, bacteria, particulates etc in the raw water. RO system is widely used in water treatment, purification for tap water, well water, underground water, borehole salty water, brackish water and seawater, pure water and ultra-pure water production, power stations, electronic industries, cosmetics production, medicine(pharmaceuticals) manufactories, and medical treatment(such as hemodialysis). It is a key equipment for pure water plant and ultrapure water equipment.
Different Water TDS compare and usage
Raw water/
Application
Bottled water,
Bag water
City tap water
Brackish water
Seawater
TDS Range
2-10ppm
100-1000ppm
2000-20000ppm
20000-40000ppm
Direct Drinking
Yes
Yes/No
No
No
Cooking, human
consumption, washing
Yes
Yes
No
No
Irrigation, Industry,
Animal Drinking
Yes
Yes
No
No
The process of RO water treatment system
Raw water pump→ mechanical filter(quartz sand filter)→ activated carbon filter→anti-scale dosing system→ security filter→ high pressure pump →Reverse osmosis→ Ozone sterilizer (UV sterilizer).

Main Parameter of the 2000LPH remove salt reverse osmosis system
Model
KYRO-2000
Production capacity
2000L/H
Power supply
380V 50Hz 3Phase or customize
Power
3.5kw
Raw water pump
Nanfang Hangzhou
Pretreatment system
quartz sand filter :φ600×1900 FRP 1pc
activated carbon filter :φ600×1900 FRP 1pc
Anti-scale dosing system
Dosing pump: SEKO
Dosing tank:PE-100
Security filter
20 "× 5μm , 5cores
High pressure pump
Nanfang Hangzhou
Quartz sand
450kg
Activated carbon
125kg
Reverse osmosis (RO)membrane
LCLE-4040 USA DOW 8pcs
Membrane housing
FRP 4080 4pcs
UV sterilizer
40W 1set
Product pictures of the water purification system 2000L/H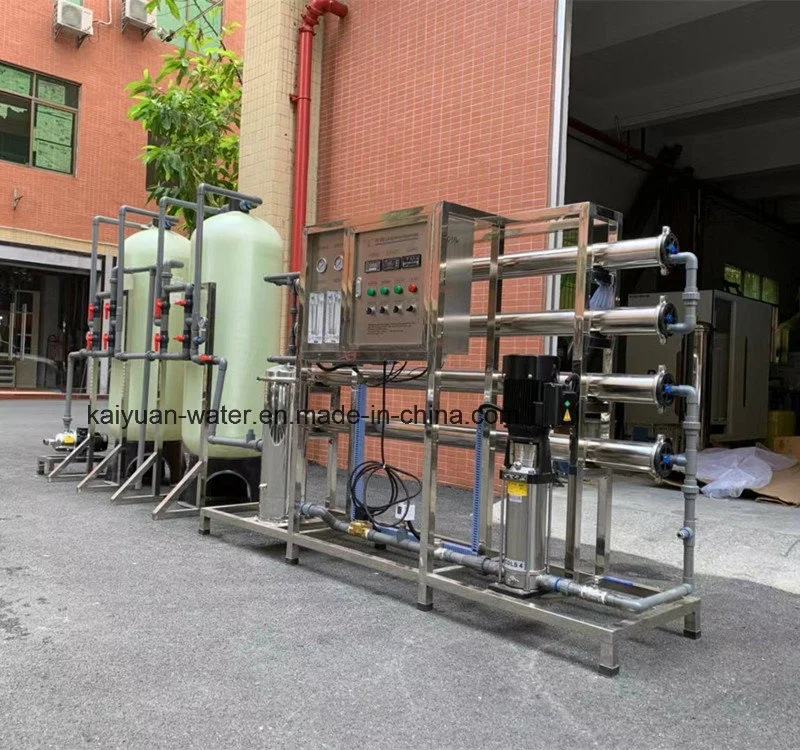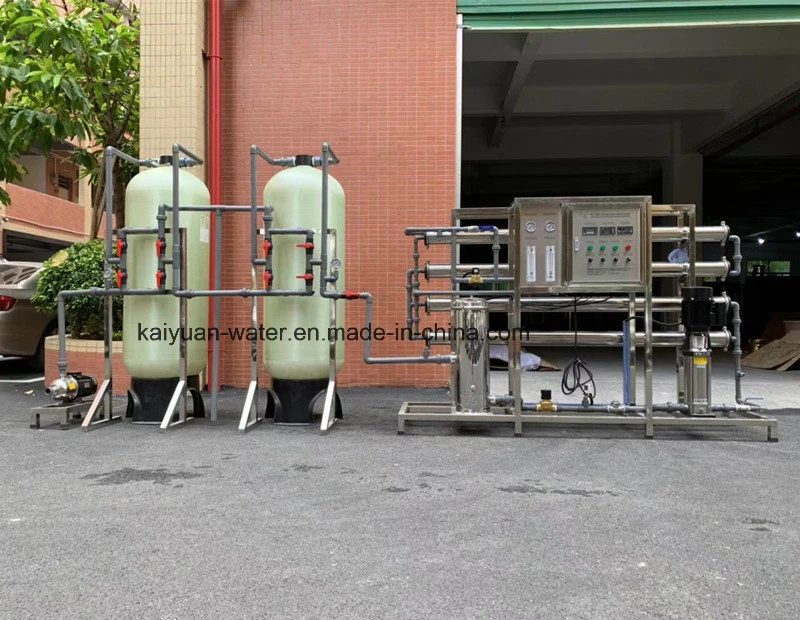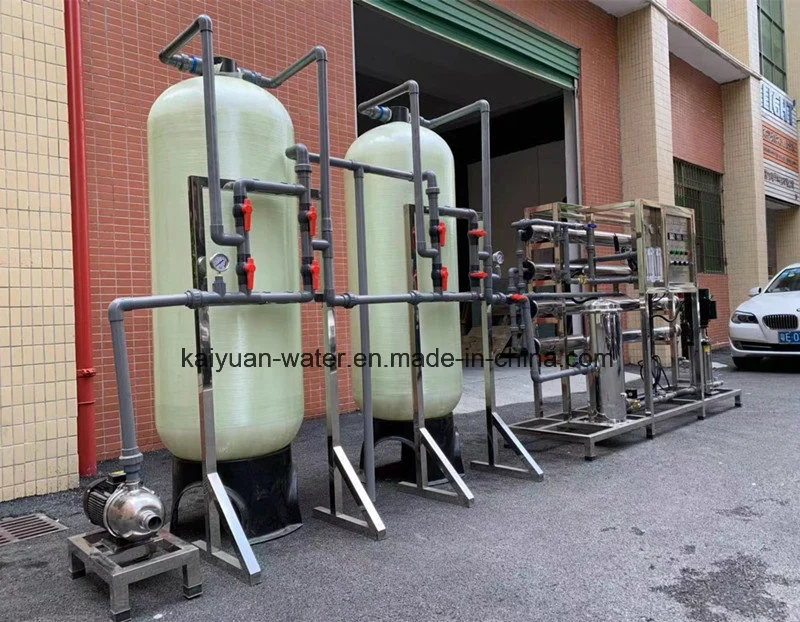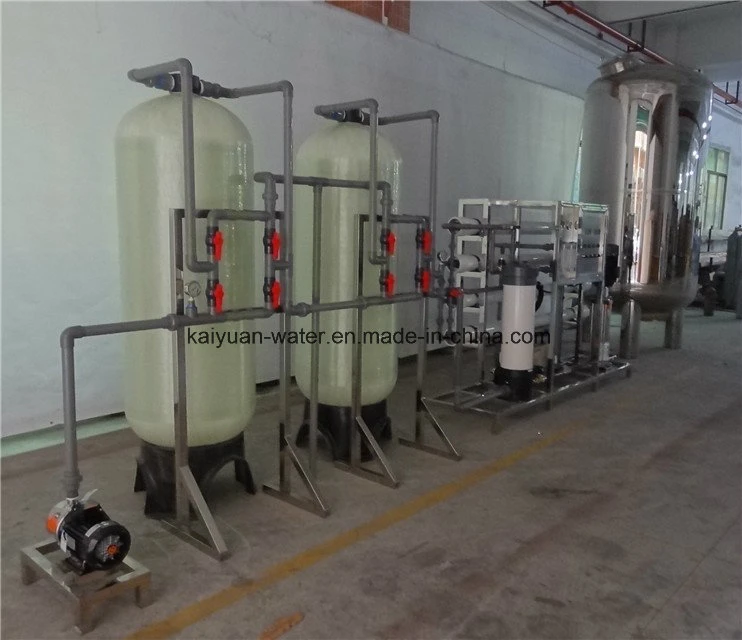 1000 liter per hour remove salt brackish reverse osmosis water filter system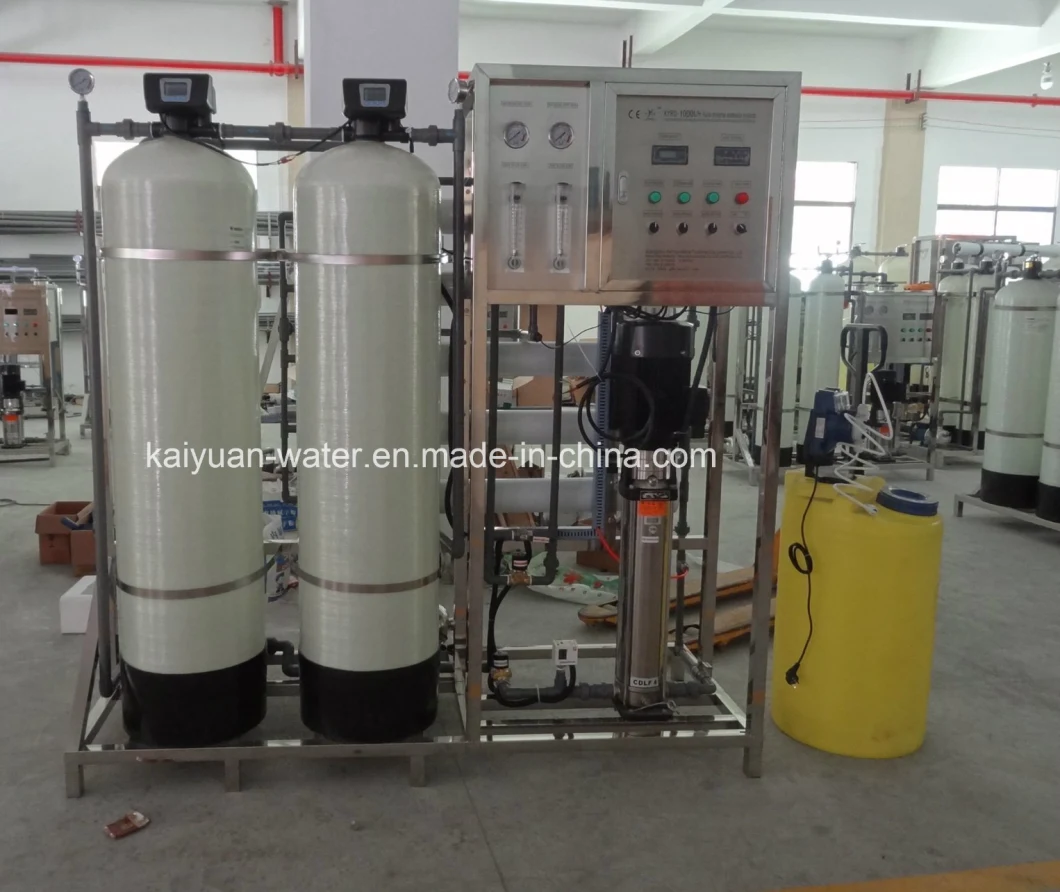 3000L/H One Stage Stainless Steel Reverse Osmosis System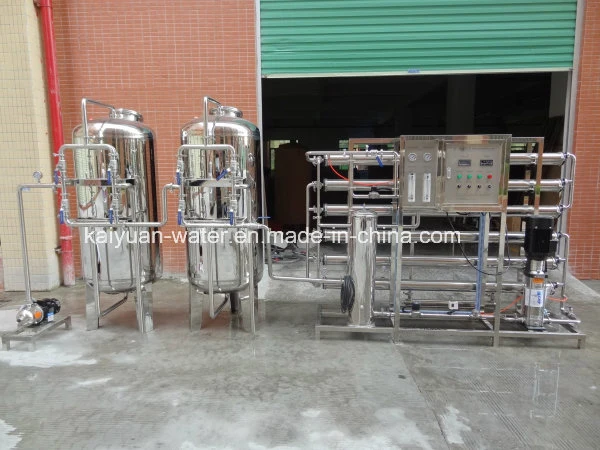 Other products you may like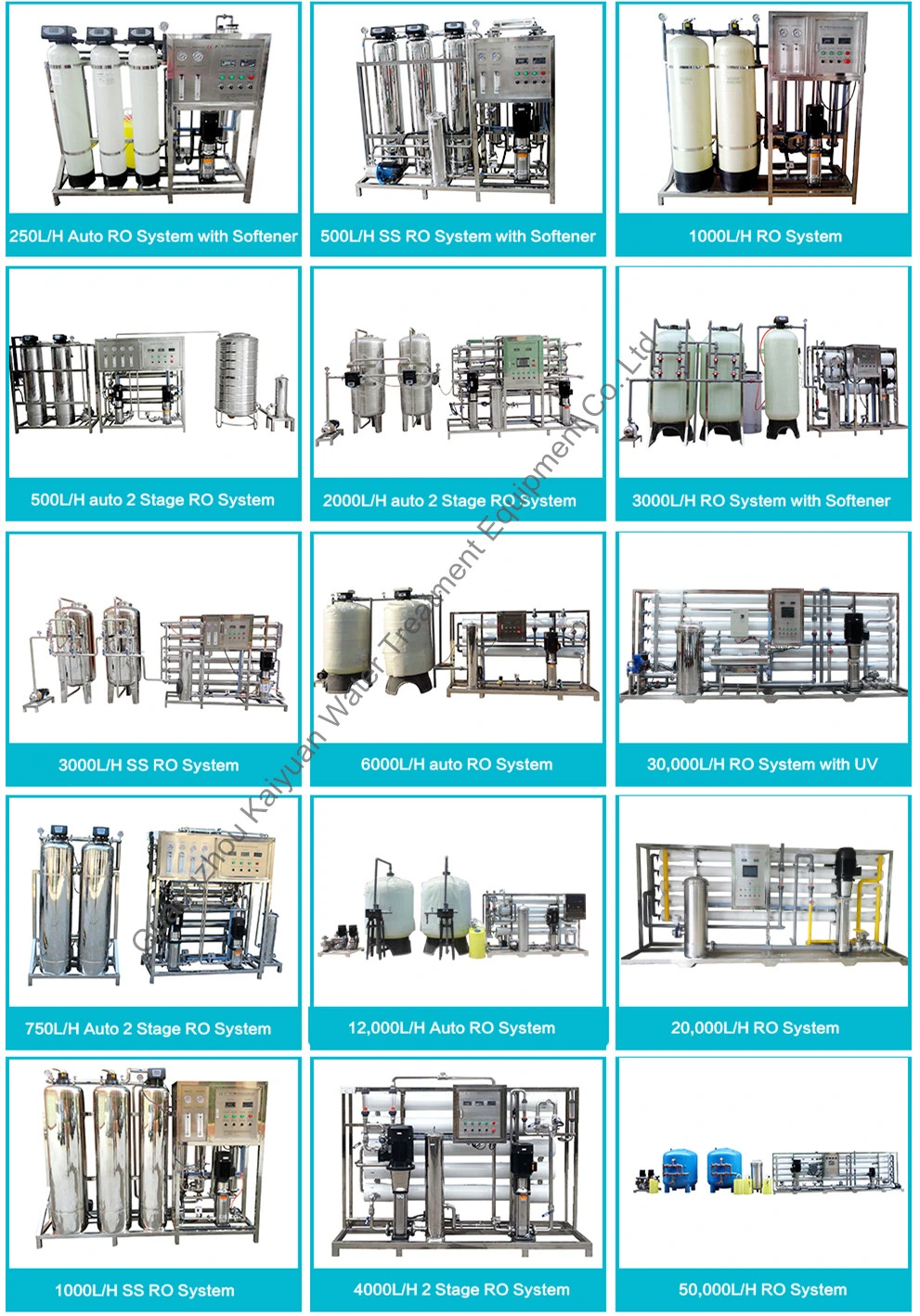 Each part function
1). Raw water pump-- provide the pressure to quartz sand filter/active carbon filter
2). Quartz filter-- get rid of turbidity, suspended matter, organic matter, colloid, etc.
3). Active Carbon filter--Remove the color, free chloride, organic matter, harmful matter, etc.
4). Water Softener--using ion exchange resin to exchange "ions" of calcium and magnesium is the most common and the easiest method of removing hardness of water and render the water suitable for utility purpose
5). Security filter--It is also called cartridge Filter, prevent any deposition of large Particles, most of the bacteria, and viruses into the UF membrane and RO membrane, The accuracy is 5um, for holding back any large particulates such as large iron, dust, suspended matter, impurity.
6). High pressure pump-- The high pressure pump is used for make sure there are enough water for satisfying designed production capacity.
7). RO (reverse osmosis) system--RO system is the main part of pure water treatment plant. The RO membrane's desalt rate can reach as high as 99%, it is capable of removing over 99% of ions, bacteria, particles and 98% of organic
Features and Advantages
1.System can produce water continuously and high degree automation.
2.No need chemical to regenerate, easy operation and maintenance.
3.Core components of ro system are imported USA DOW membranes.
4.Automatic switch on when low water level, and switch off when high water level
5.System flushes RO membranes automatically, reducing membranes polluted speed.
6.Water shortage protection for multi-stage pump
7.Product water conductivity meter can monitor water quality online continuously.
8.Low operation cost and long life span
9. There's RO controller, make whole RO system operating automatically.
10.Easily control and Maintained.
11. Auto flush and backwash the prefilters
12. Integrating water flow indicator, conductivity indicator, pressure indicator, control panel
Application fields:
1)Electronic industry, semiconductor industry ultrapure water treatment
2)Chemical industry, pharmaceutical industry pure water treatment
3)Food, beverage, drinking water, bottled drinking water, sachet/pouch packing pure drinking water treatment
4)Electroplating and leather industry waste water treatment
5)Brackish water desalination, sea water desalination, metallurgy and light industry pure water treatment
6)Cosmetic products, car battery, liquid fertilizer production pure water treatment
7)Edible cube ice, tube ice etc.
8)School, hotel, hospital, laboratory, surface treatment, hydraulic test, industrial boiler, power station boiler, high pressure boiler water treatment
Production capacity we can provide as below
Model
Flow rate (L/h)

Power(KW)

Water use efficiency
RO membrane
Dimension L X W X H(mm)
KYRO-250

250

1.5

≥ 15%

4040

1550X620X1670

KYRO-500

500

1.5

≥ 50%

4040

1650X630X1800

KYRO-750

750

2.5

≥ 50%

4040

1870X 630 X 1850

KYRO-1000

1000

2.5

≥ 50%

4040

1870X 650 X 1850

KYRO-2000

2000

3.5

≥ 50%

4040
2440X650X1750
(host machine)

KYRO-3000

3000

4

≥ 50%

4040

2440X620X1850 (host machine)

KYRO-5000

5000

7.5

≥ 50%

8040

2000X900X1800 (host machine)

KYRO-6000

6000

9.5

≥ 60%

8040

3000X900X1800 (host machine)

KYRO-8000

8000

13.5

≥ 60%

8040

3000×900×1800 (host machine)

KYRO-9000

9000

14

≥ 60%

8040

4000X900X1800 (host machine)

KYRO-10T

10T/H

19

≥ 60%

8040

3000X900X1800 (host machine)

KYRO-12T

12T/H

19.5

≥ 60%

8040

4000X900X1800 (host machine)

KYRO-15T

15T/H

23

≥ 60%

8040

4000X900X1950 (host machine)

KYRO-20T

20T/H

28

≥ 60%

8040

5000X900X1950 (host machine)

KYRO-30T

30T/H

55

≥ 60%

8040

7000X900X1950 (host machine)
Buying Guides
1. Send inquiry for the reverse osmosis system to email or mobile:008615102048719
2. Inform us the production capacity of the reverse osmosis system (500L/h, 1000L/h,3000L/h...) you need, source water(tap water, well water, borehole water etc.) and application of output pure water from the reverse osmosis system.
3. We will make a plan and quotation for the reverse osmosis system immediately as your requirements.
4. Confirm details of the reverse osmosis water treatment plants (specification, consumable parts, power supply, delivery time, payment terms, shipping cost, packing details etc. At the same time, you are also welcome to visit our factory and we talk face-to-face.
5. Sign sales contract or proforma invoice for this reverse osmosis system.
6. Pay 30% deposit for confirming this order
7. We confirm receipt of the deposit and start to produce the RO machine.
8. After finish production for ro machine, we take pictures and send to you.
9. Pay balance and we arrange packing for the RO machine (if it is other payment terms(such as L/C), we can negotiate accordingly.
10. Arrange shipment or send the reverse osmosis system to your appointed warehouse.
11. Send the Bill of loading, commercial invoice, packing list, certificate of origin and insurance policy to customers via DHL or UPS or FedEx etc. for custom clearance.
12. Customers receive the reverse osmosis systems, then install and operate it as our manual book or operation video of the RO machine. our engineers are also available to service overseas.
13. Business finished, all our ro machine quality is guaranteed for 1 year and with free lifetime technique support. Please contact us freely.
About our company: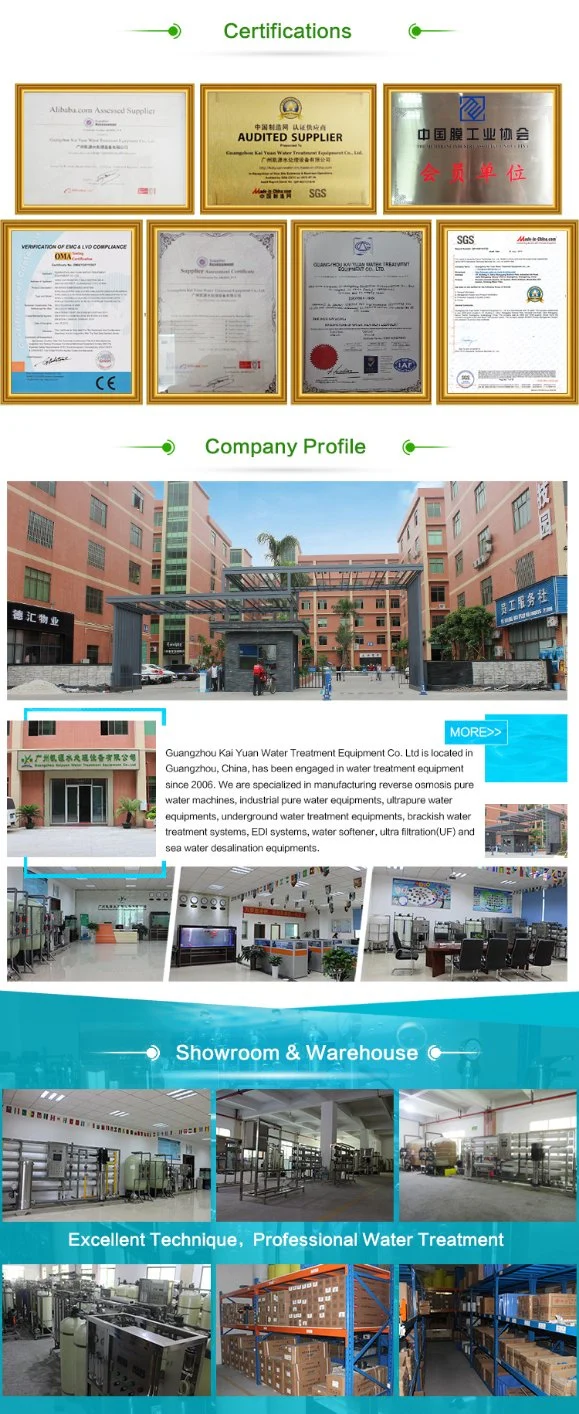 Contact us:
Add:Dehui Wanggang Science Park, Industrial 3 Road, Jiahe Wangwang, Baiyun District, Guangzhou, Guangdong Province, China.
Mobile:+86-151 0204 8719
Tel:+86-020-81798225 Fax:+86-020-81994735