Edible Grade Permanent Magnet Block for Food Industry Filtered Water/Impurities
| | |
| --- | --- |
| Item | Block Magnet |
| Grade | N35~N52,38M-48M,35H-48H,33SH-44SH,30UH-35UH,30EH-35EH |
| Composition | Neodymium Magnet |
| Application | Voice-coil Motor(VCM), MRI, Generator, Car, Speaker, Computer,Toy |
| Working Temp. | 80ºC~200ºC |
| Coating | Zinc, Nickel |
| Dimension | Customized size |
| Magnet Direction | Through thickness(Axially)+Radially |
| Type | Strong&Permanent |
| Performance | Permanent, Strong, Rust-proof, Anti-corrosion |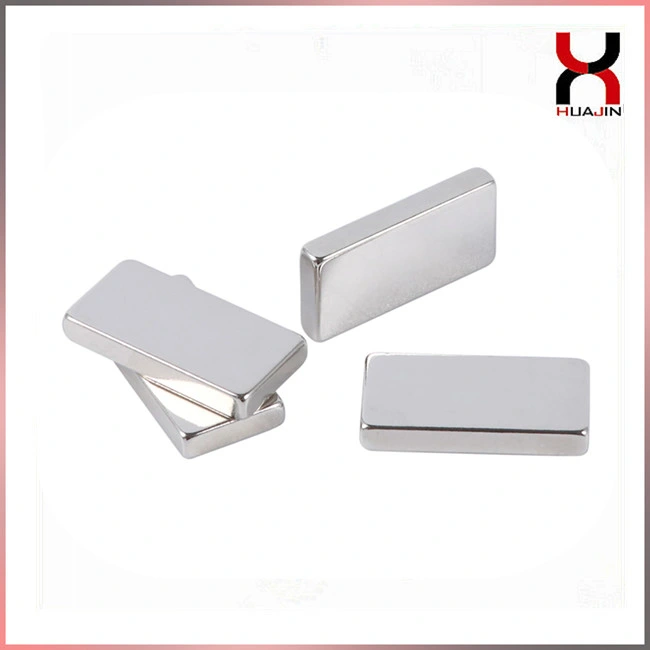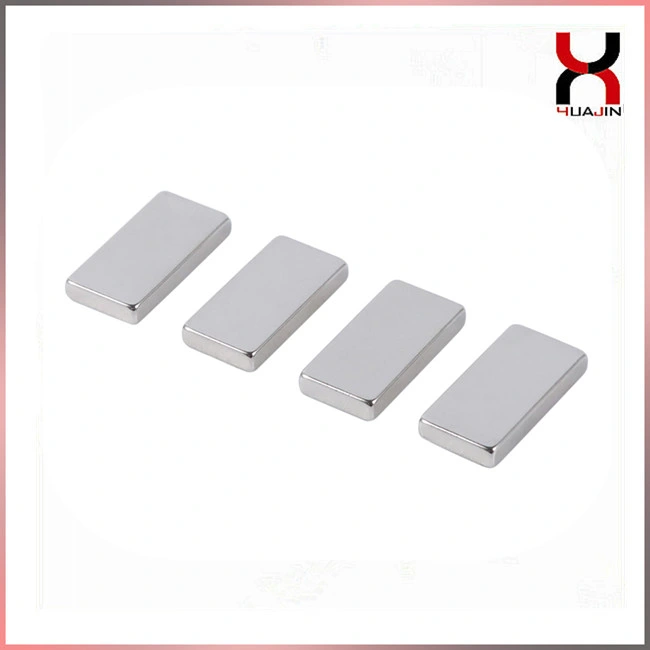 MAGNETIC AND PHYSICAL CHARACTERISTICS
Grade

Remanence

Coercive Force

Intrinsic Coercive force

Max. Energy Product

Max. Working Temp.

Br

Hcb

Hci

(BH) max

L/D=0.7

T

kGs

KA/m

KOe

KA/m

KOe

KJ/m3

MGOe

ºC

°F

N35

1.17-1.24

11.7-12.4

≥860

≥10.8

≥955

≥12

263-295

33-37

80

176

N38

1.22-1.30

12.2-13.0

≥860

≥10.8

≥955

≥12

287-318

36-40

80

176

N40

1.26-1.32

12.6-13.2

≥860

≥10.8

≥955

≥12

302-334

38-42

80

176

N42

1.29-1.35

12.9-13.5

≥860

≥10.8

≥955

≥12

318-350

40-44

80

176

N45

1.32-1.38

13.2-13.8

≥860

≥10.8

≥955

≥12

334-366

42-46

80

176

N48

1.37-1.43

13.7-14.3

≥836

≥10.5

≥876

≥11

358-390

45-49

80

176

N50

1.40-1.45

14.0-14.5

≥836

≥10.5

≥876

≥11

374-406

47-51

80

176

N52

1.42-1.48

14.2-14.8

≥836

≥10.5

≥876

≥11

390-422

49-53

80

176

N54

1.45-1.51

14.5-15.1

≥836

≥10.5

≥876

≥11

398-438

50-55

80

176

N35M

1.17-1.24

11.7-12.4

≥860

≥10.8

≥1114

≥14

263-295

33-37

100

212

N38M

1.22-1.30

12.2-13.0

≥915

≥11.5

≥1114

≥14

287-318

36-40

100

212

N40M

1.26-1.32

12.6-13.2

≥939

≥11.8

≥1114

≥14

302-334

38-42

100

212

N42M

1.29-1.35

12.9-13.5

≥955

≥12.0

≥1114

≥14

318-350

40-44

100

212

N45M

1.32-1.38

13.2-13.8

≥987

≥12.4

≥1114

≥14

334-366

42-46

100

212

N48M

1.37-1.43

13.7-14.3

≥1019

≥12.8

≥1114

≥14

358-390

45-49

100

212

N50M

1.40-1.45

14.0-14.5

≥1043

≥13.1

≥1114

≥14

374-406

47-51

100

212

N52M

1.42-1.48

14.2-14.8

≥1059

≥13.3

≥1114

≥14

390-422

49-53

100

212

N35H

1.17-1.24

11.7-12.4

≥876

≥11

≥1350

≥17

263-295

33-37

120

248

N38H

1.22-1.30

12.2-13.0

≥915

≥11.5

≥1350

≥17

287-318

36-40

120

248

N40H

1.26-1.32

12.6-13.2

≥939

≥11.8

≥1350

≥17

302-334

38-42

120

248

N42H

1.29-1.35

12.9-13.5

≥963

≥12.1

≥1350

≥17

318-350

40-44

120

248

N45H

1.31-1.37

13.1-13.7

≥979

≥12.3

≥1350

≥17

335-366

42-46

120

248

N48H

1.37-1.43

13.7-14.3

≥1011

≥12.7

≥1274

≥16

358-390

45-49

120

248

N50H

1.40-1.45

14.0-14.5

≥1027

≥12.9

≥1274

≥16

374-406

47-51

120

248

N33SH

1.14-1.21

11.4-12.1

≥852

≥10.7

≥1592

≥20

247-279

31-35

150

302

N35SH

1.17-1.24

11.7-12.4

≥876

≥11

≥1592

≥20

263-295

33-37

150

302

N38SH

1.22-1.29

12.2-12.9

≥915

≥11.5

≥1592

≥20

287-318

36-40

150

302

N40SH

1.26-1.32

12.6-13.2

≥939

≥11.8

≥1592

≥20

302-334

38-42

150

302

N42SH

1.29-1.35

12.9-13.5

≥963

≥12.1

≥1592

≥20

318-350

40-44

150

302

N45SH

1.32-1.38

13.2-13.8

≥994

≥12.5

≥1592

≥20

335-366

42-46

150

302

N30UH

1.08-1.16

10.8-11.6

≥812

≥10.2

≥1990

≥25

223-255

28-32

180

356

N33UH

1.14-1.21

11.4-12.1

≥852

≥10.7

≥1990

≥25

247-279

31-35

180

356

N35UH

1.17-1.24

11.7-12.4

≥876

≥11

≥1990

≥25

263-295

33-37

180

356

N38UH

1.22-1.29

12.2-12.9

≥915

≥11.5

≥1990

≥25

287-318

36-40

180

356

N40UH

1.26-1.32

12.6-13.2

≥939

≥11.8

≥1990

≥25

302-334

38-42

180

356

N42UH

1.29-1.35

12.9-13.5

≥963

≥12.1

≥1990

≥25

318-350

40-44

180

356

N30EH

1.08-1.15

10.8-11.5

≥812

≥10.2

≥2388

≥30

223-255

28-32

200

392

N33EH

1.14-1.21

11.4-12.1

≥851

≥10.7

≥2388

≥30

247-279

31-35

200

392

N35EH

1.17-1.24

11.7-12.4

≥876

≥11

≥2388

≥30

263-295

33-37

200

392

N38EH

1.22-1.29

12.2-12.9

≥915

≥11.5

≥2388

≥30

287-318

36-40

200

292

N28AH

1.04-1.12

10.4-11.2

≥772

≥9.70

≥2786

≥35

207-239

26-30

230

446

N30AH

1.08-1.15

10.8-11.5

≥812

≥10.2

≥2786

≥35

223-255

28-32

230

446

N33AH

1.14-1.21

11.4-12.1

≥852

≥10.7

≥2786

≥35

247-279

31-35

230

446
Applications of Sintered NdFeB Magnets
| | |
| --- | --- |
| · Automotive Starters | · Microphone Assemblies |
| · Computer Rigid Disc Drives | · Particle Accelerators |
| · DC Motors | · Printers |
| · Headphone | · Relays |
| · Halbach Arrays | · Servo Motors |
| · Linear Actuators | · Stepper Motors |
| · Linear Motors | · Switches |
| · Loud Speakers | · Undulators |
| · Magnetic Bearings | · Vacuum Deposition |
| · Magnetic Couplings | · Voice Coil Motors (VCM) |
| · Magnetic Separators | · Wind Turbines |
NdFeB magnet:
1.Ndfeb magnet,the third generation of rare-earth permanent magnet,is the most
powerful and advanced permanent magnet today.Ndfeb is named as "Magnet
King"for its high remanence,high energy.Moreover,it has the high performance
and high cost ration, because of the rich rare earth resources in China and the
ever-changing production process and technological progress.
2. Sintered Rare Earth NdFeB Magnet: is one of the high performance rare earth
permanent magnets, which use neodymium (Nd), iron (Fe), and boron (B) as their
main ingredients.

Our Company
Nanjing Huajin Magnetic Materials Co., Ltd. Specializing in the production and
sale of magnetic NdFeB, magnetic bar, magnetic products, magnetic frame.
Magnets of various shapes and sizes can be produced according to customer
requirements, such as packaging diskette, the motor magnetic tile, magnetic ring,
toy bar magnet, magnetic ball, with the exception of iron magnetic rods, magnetic
hooks, magnetic separator box; Surface treatment: Gold, silver, plated epoxy, nickel
plated copper-nickel, zinc, chromium, titanium (blue zinc, black zinc, color zinc),
above the surface treatment to meet environmental requirements.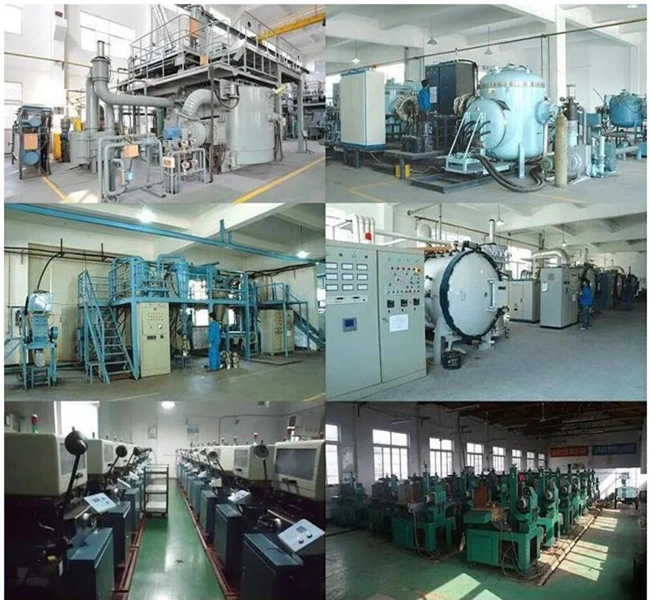 Customized

Service:


1. Customized Material Neodymium Grade: N35-N52, N35M-N50M, N35H-N48H,
N33SH-N45SH, N30UH-N35UH, N30EH-N35EH;
2. Customized Shaped magnet: Round / block / ring / cylinder / countersunk / arc /
segment other irregular shapes.
3. Custom packaging. Usually we packed the magnet with vacuum polybag. Then
packed in stop magnetic metal box. We can also make the package as your requirements.
4. Customized Mark: to distinguish N pole and S pole.
5. Custom coating. We can coated in Nickel. Zinc, Chromium as your requirements.
6. Customized Working temperature: <80ºC/ 80ºC-200ºC

Our advantage:
1. More than 10-year magnet manufacturing experience, quality, lead time, price and
service have been gauranteed.
2. Professional R&D department, with a professional technologist team.
3. Much Experienced Export Customs Declare Team.
4. Low MOQ and free samples.
Our Team Work Plan:


1.Continuously effort to get some new technicial to meet customers requirements.
2. Reply your query within 12 hours
3. 3 days for magnet sample made
4. Timely Lead time in 3-10 days
5. Quality control from material prepared to products finished. And apply the products test report.
6. Any query we would follow up after sales.
Payment Term:
T/T, L/C, Western Union, PayPal.

Package & Shipment:
1. By Express(DHL, FedEx, TNT, UPS ect): Door to door, Short Delivery time, 3-5 days.
2. By Air: Short Delivery Time, 3-7 days.
3. By Sea: Cheap Shipping Cost, 7-35 days.

Package: Magnetic Isolation Package
Carton: 36*27*15CM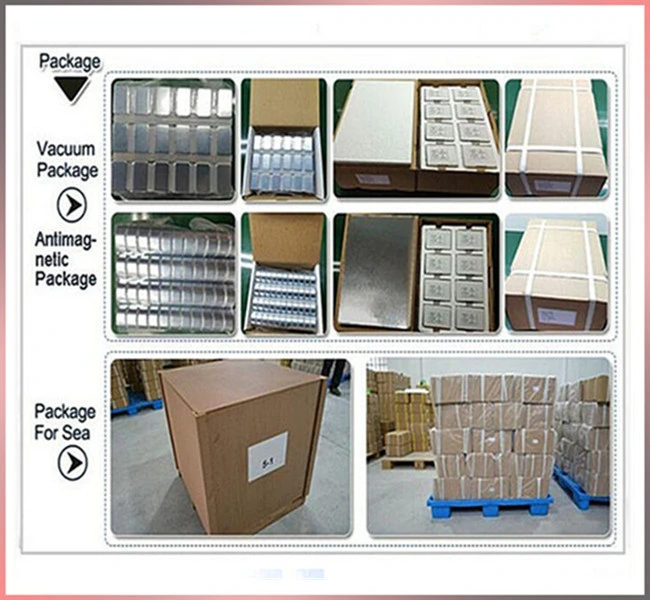 FAQ:
1. How to get prompt quotation?
Kindly offer us the specific size, quantity, coating(zinc/nickel), magnetism direction ect other
requiries. Then best price will be offered ASAP.

2.What about the lead time?
(1) Sample: 5-7 days.
(2) Batch quantity: 7-9 days.

3.What's the MOQ?
(1) Spot Stocks: No MOQ;
(2) Regular Size: 500 PCS, 1000 PCS, 2000 PCS, 5000 PCS ect.
(3) Other Size: 2000 PCS, 5000 PCS, 10000 PCS ect.

4. Terms of Paymemt:
(1). T/T in advance(telegraphic transfer-bank order)
(2). Western Union cash - for samples order.
(3). PayPal- for samples order, quick receipt

Please feel free to contact me for any questions and requiries.