10000 Liter RO System Water Treatment Plant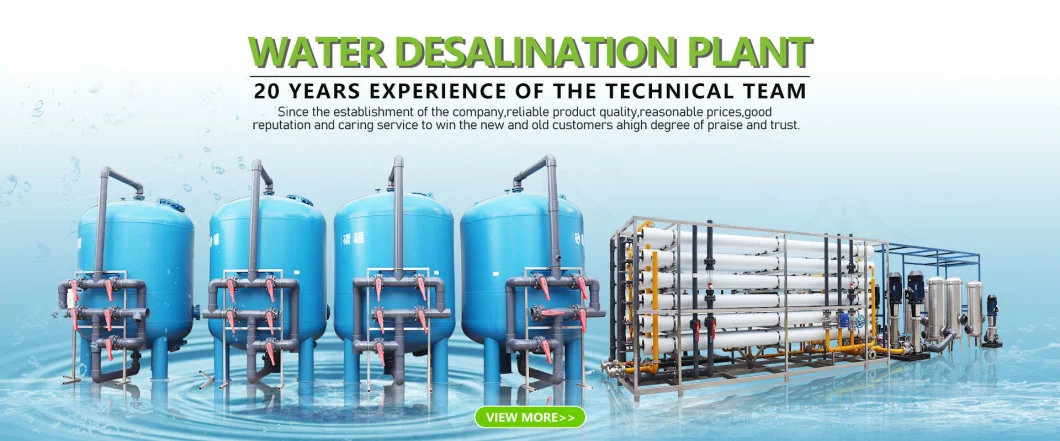 Material of 10T/H reverse osmosis system
| | | |
| --- | --- | --- |
| No. | Specifications | Material |
| 1 | Pretreatment Tanks | FRP |
| 2 | Pipes | UPVC&SS304 |
| 3 | Frame | SS304 |
| 4 | Cartridge Filter Housing | SS304 |
| 5 | Memrane Housing | FRP |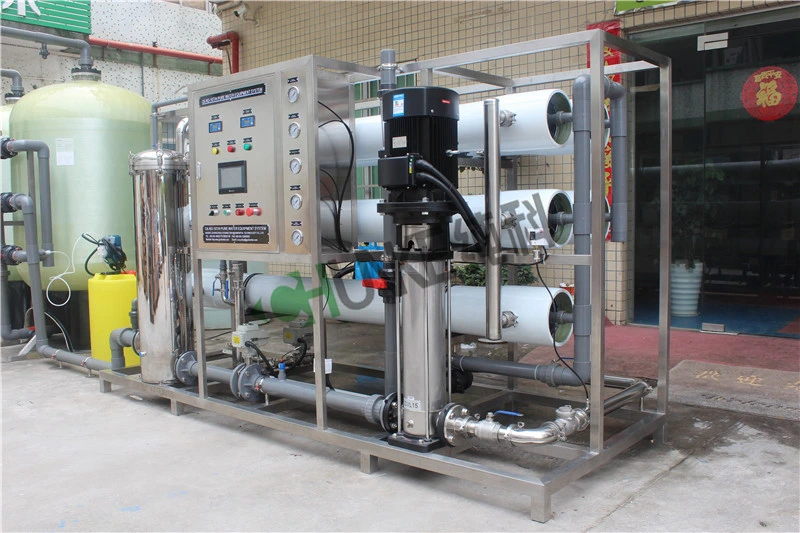 This system is a water production 10.0m3 / h reverse osmosis pure water preparation and supply system, which uses tap water as raw water, which is pre-treated first and then RO reverse osmosis treated. After a series of treatments, it can remove particles, colloids, organic impurities, heavy metal ions, bacteria, viruses, heat sources and other harmful substances and 99% of dissolved salts in the water. The system's desalination rate is as high as 96-98%. The system includes a pretreatment part (booster pump, mechanical filter, activated carbon filter, 5μm security filter), first-class RO reverse osmosis (equipment electronic control, high-pressure water pump, RO components, control sensors), RO pure water last Enter the pure water tank for use.

10T/H Pure Water treatment plant Product description
a . Continuously water purifing , without generation , lower labor intensity .
b . 97%-99% desalination with original import reverse osmosis membrane ,
c . 98% organic mater and bacteria wiped off , over 98 heat source ,
d . Online conductivity monitoring , ensure good effluent .
e . PLC microcomputer monitoring , timing flush reverse osmosis membrane to ensure high quality purified water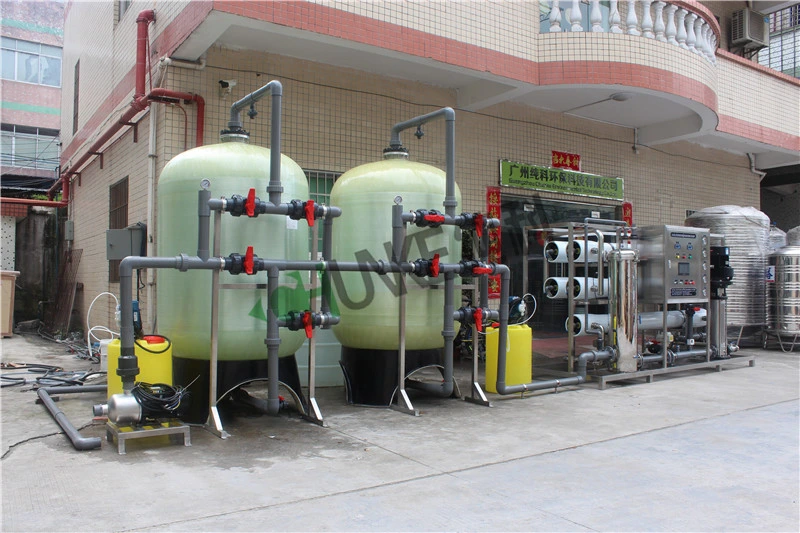 We have different material for different application. Before choosing RO System and Type please contact with our Pro- fessional CHUNKE technical service.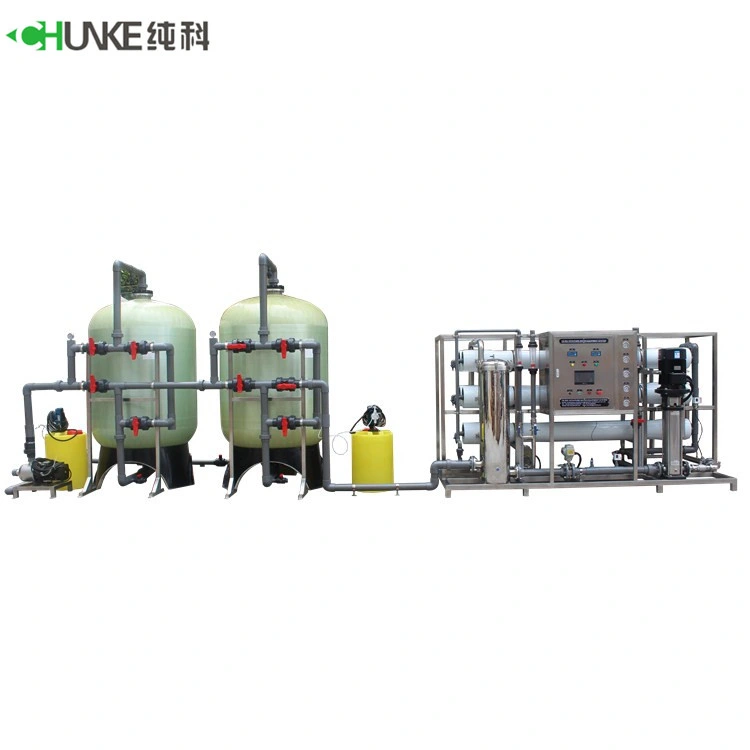 Application line:
1)Electronic industry, semiconductor industry ultrapure water treatment
2)Chemical industry, pharmaceutical industry pure water treatment
3)Food, beverage, drinking water, bottled drinking water, sachet/pouch packing pure drinking water treatment
4)Electroplating and leather industry waste water treatment
5)Brackish water desalination, sea water desalination, metallurgy and light industry pure water treatment
6)Cosmetic products, car battery, liquid fertilizer production pure water treatment
7)Edible cube ice, tube ice etc.
8)School, hotel, hospital, laboratory, surface treatment, hydraulic test, industrial boiler, power station boiler, high pressure boiler water treatment
RO System Design Basis
1.Raw water source :Tap water,mountain water...
2.Raw water analysis report : unconfirmed
3.RO system rated flux : 10m3/h
4.RO system recovery : 50-65%
5.Salt rejection : 96%
6.RO working voltage : 380V/50Hz
7.RO system power : 16KW
8.Water feeding pressure : 0.15-0.25Mpa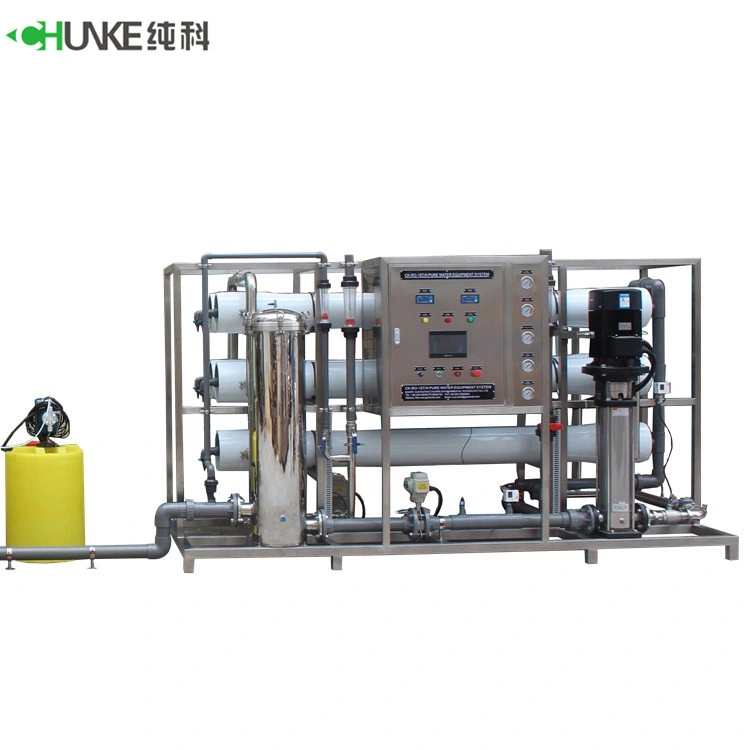 Why is Reverse Osmosis a Good Water Filtration Option?
We've been in the water filtration business since 2000 and have found Reverse Osmosis filtration to consistently be
one of the best ways to achieve superior water for the home and business.
RO system is key part for the water treatment system, which is widely used to make the pure water and drinking water. RO membrane removes many types of large molecules and ions from solutions by applying pressure to the solution when it is on one side of a selective membrane. The result is that the solute such as iron, Virus, bacteria and solids is retained on the pressurized side of the membrane and the pure solvent is allowed to pass to the other side.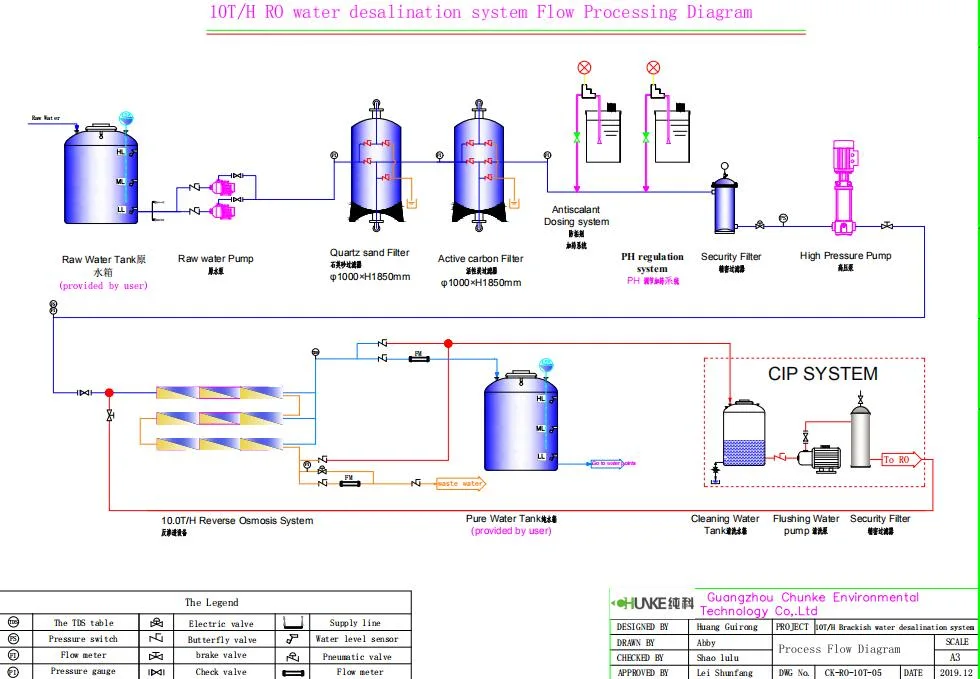 Electronic Parts:
PLC programmable automatic control is Mitsubishi,if you want PLC touch screen panel, we use driver Siemens or Danfoss.
All electronic parts are France Schneider contactors, thermal relays, knobs, switches, lights, Korean pressure controller, time controller.
Configuration list
NO.

DESCRIPTION

Origin/Brand

QTY

1

Raw Water Pump

CNP

1set

2

Quartz sand filter

CHUNKE

1set

3

Activated Carbon Filter

1set

4

Cartridge Filter (5μm) 40″×7 core

CHUNKE

1set

5

High-Pressure Pump

CNP

1set

6

Reverse osmosis desalination device water production:

10

.0m3 / h, desalination rate: 96 ~ 99%, the system water utilization: 50%

1set

7

Cleaning system

CHUNKE

1set

8

Electronic control system (China's Mitsubishi PLC automatic control, the French Schneider Electric components, RO membrane automatic washing, the original water tank and pure water tank water level control automatically stop the machine, low pressure, high pressure, overheating, overcurrent, lack of protection and Alarm function, reserved manual operation function and 4-20mA signal output)

CHUNKE

1set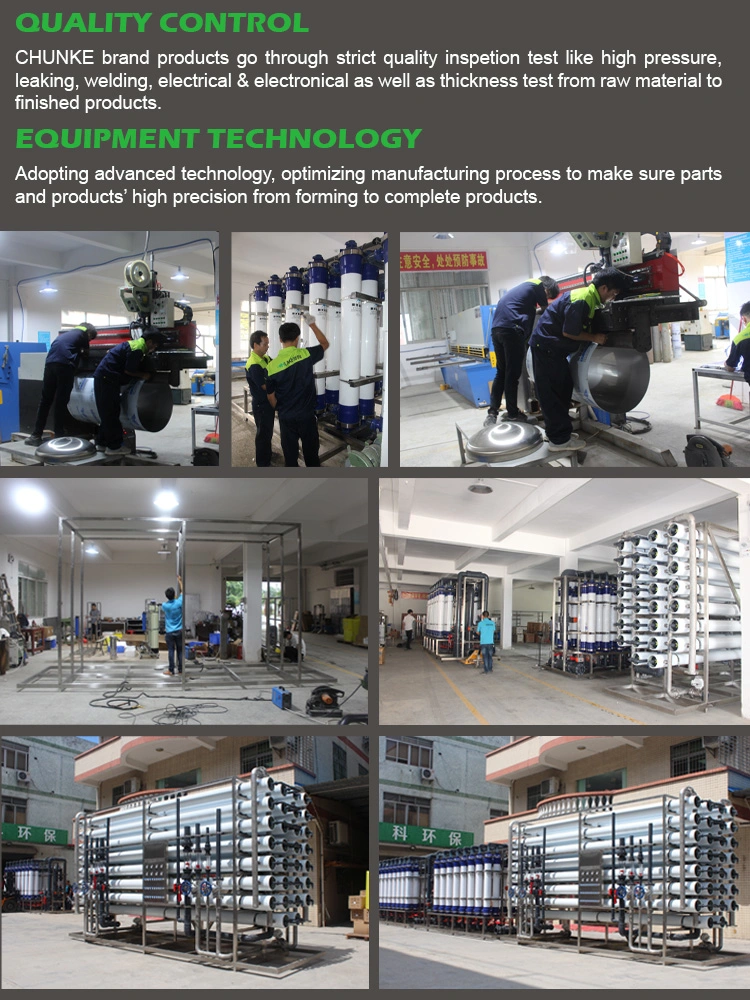 Packing and shipping
Packed in carton case and wooden box.
Delivery: Negotiation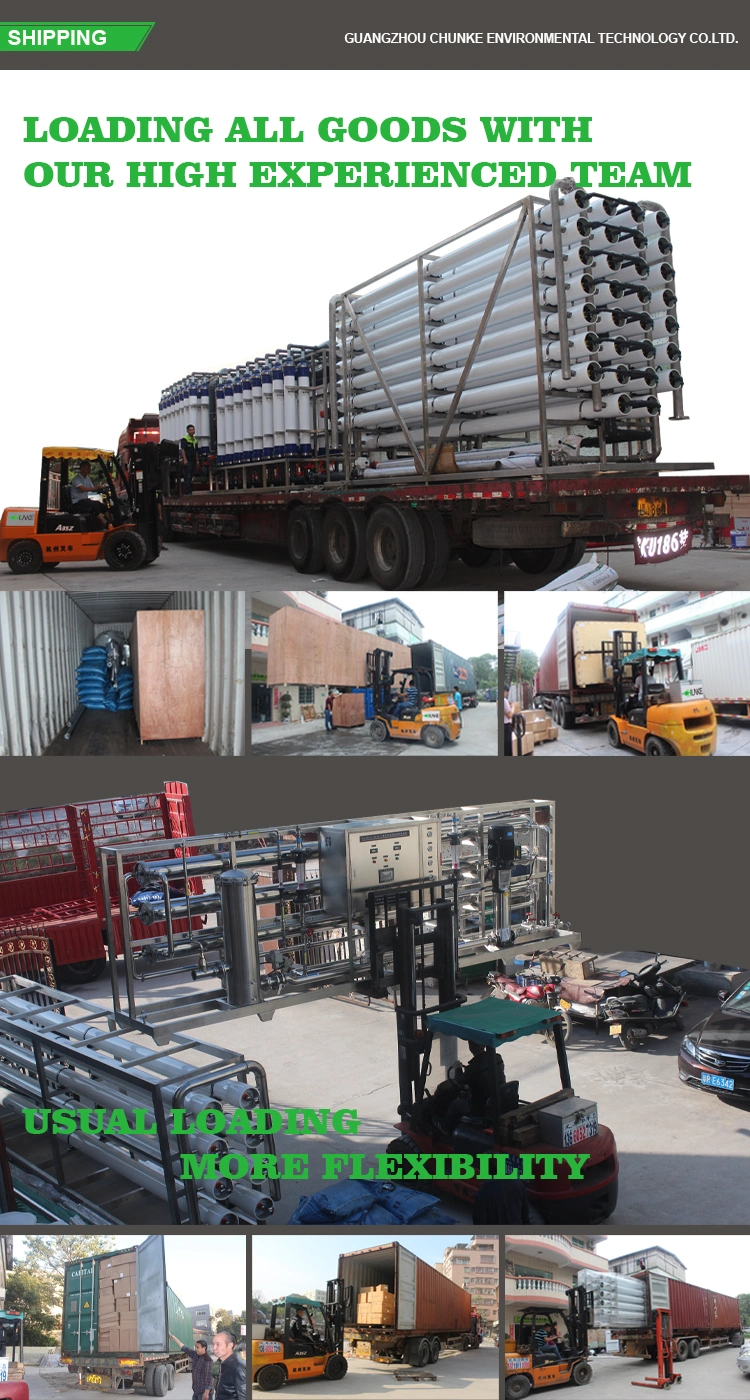 About our company
Guangzhou Chunke Environmental Technology Co., Ltd is a scientific enterpruise, which is specialized in water treatment equipment and accessories of research and development, production, sales and service.
Production and management: Cartridge filter, bag filter, mechanical filter, lon Exchanger, Imitation FRP barrels, ozone mixing tower, sterile water tank, stainless steel membrane shells, hollow-fiber mambrane, ultraviolet radiation sterialization device, ozone generator, and water treatment equipment and so on.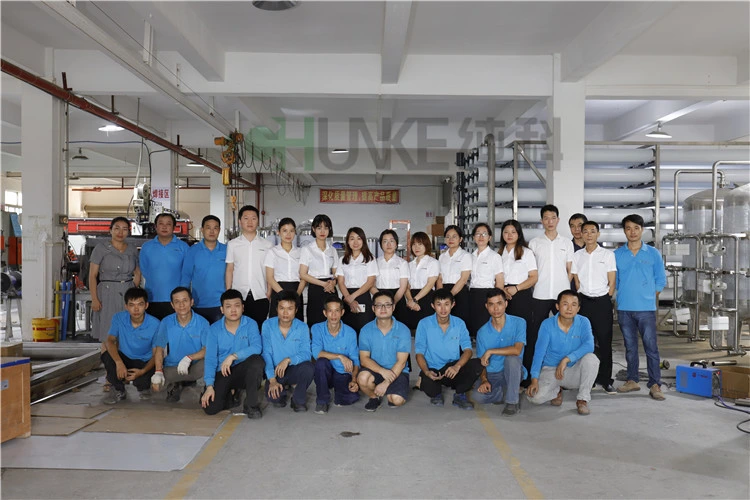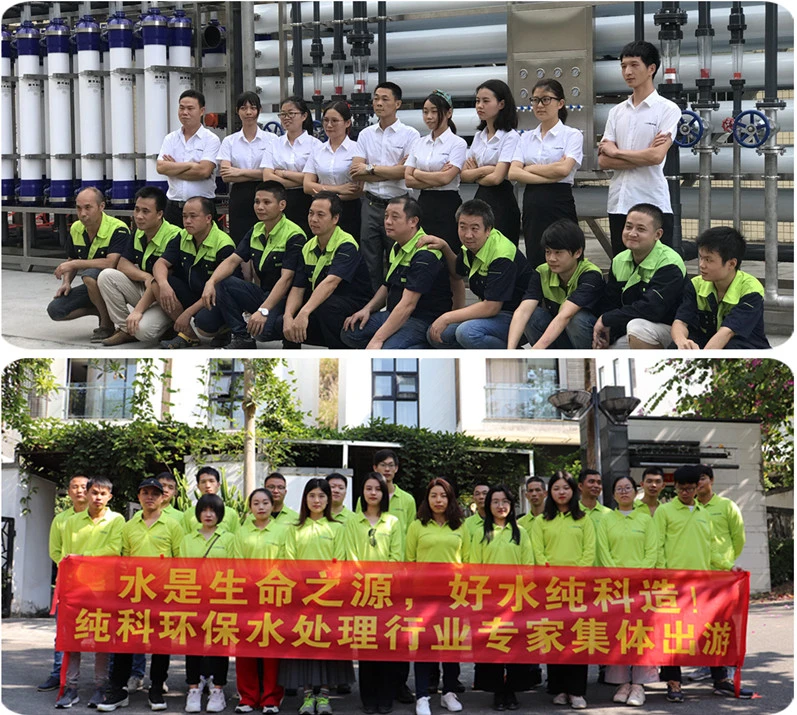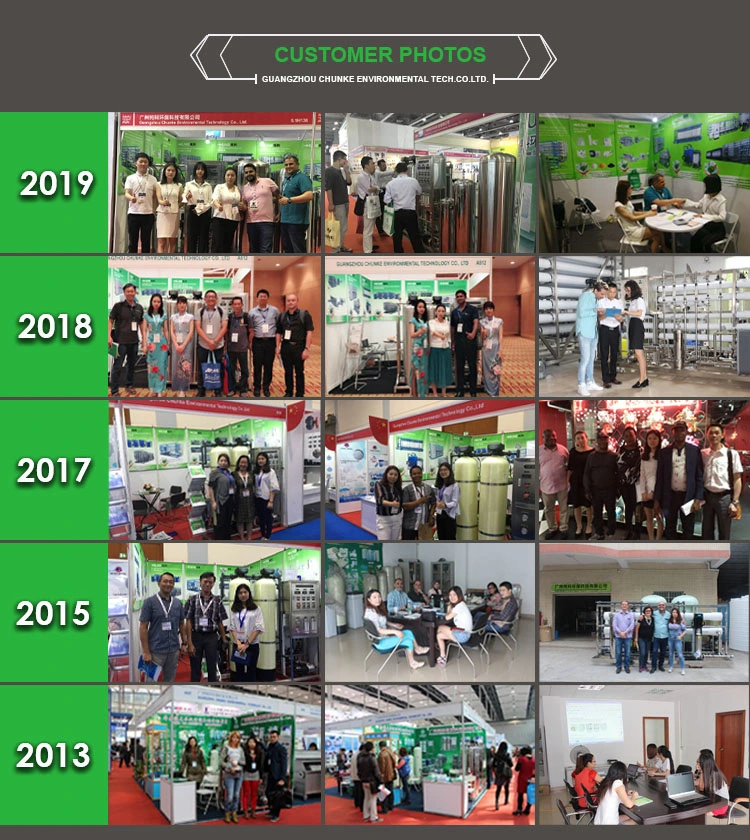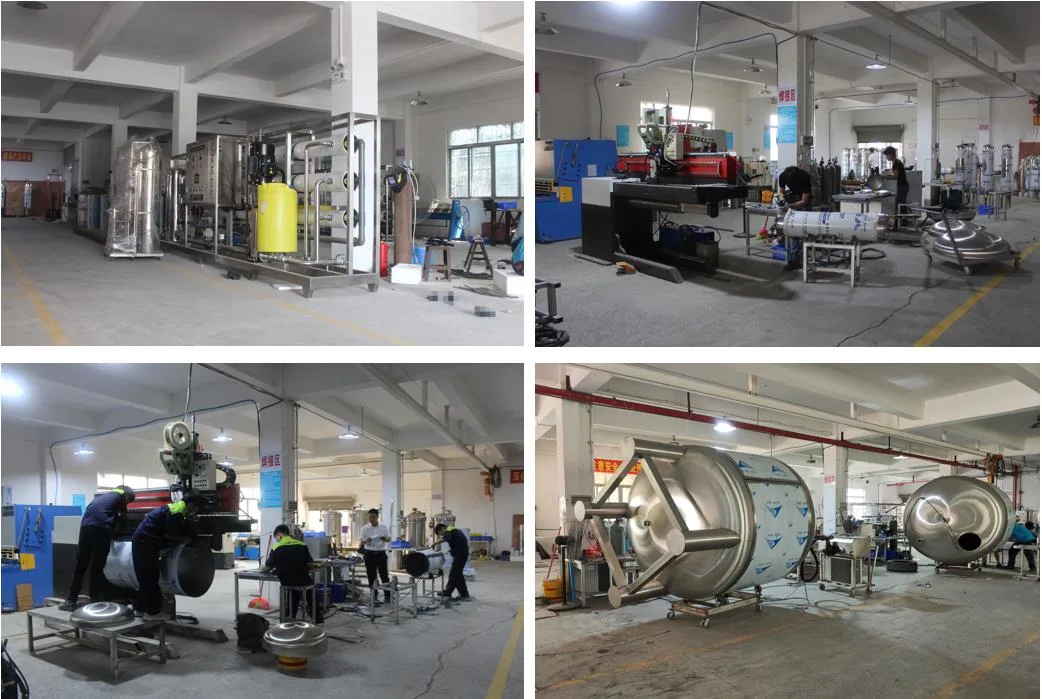 If you have another question, please feel free to contact me soon!